NOTE: This article was submitted to a newly debuting cosplay zine back in March of this year. After several inquiries about obtaining a contributors copy or just trying to find out anything about it, I gave up. But since I wrote the article, I still wanted to share it. So Matt Powell, if you are out there I'd still like a copy if you ever got it off the ground.
When "The Time of Angels" aired, my impression of River Song went from "interesting" to "fantastic"! I mean what an entrance! And what a dress! I loved that dress. I wanted to cosplay that dress. Oh wait, I can't sew. So I went into hunter-gather mode repeating my "close enough is good enough" mantra and got to work.
In its first incarnation, it was little more than a repurposing of a black maxi dress I already owned (used the year before when I costumed Holly Golightly at an Oscar-themed party) with a black sheer long-sleeved blouse tucked in underneath and a wig won in an eBay auction. I was sad I could not add any fancy beading as the front of the dress had a sunbust pattern on it but figured it was not that big of a deal. Also from eBay I acquired a cheap pair of red platform pumps that felt like a pair of cheap pair of red platform pumps, added a bright red purse from Goodwill and called it done.
It debuted at a general science fiction convention where 3 people sort of guessed who I was supposed to be, and I figured that would be it for the outfit.
A few weeks after, I wondered how the dress would look with the blouse worn on the outside and decided it didn't look half bad. (Later the dress would be replaced with a long black A-line skirt.) Now I could add some sort of trim to make it a bit more accurate. I scoured the local fabric store as well as EBay to find something in the close-enough family and scored some inexpensive black and gold ribbon. I was not entirely happy with it, but it was incredibly cheap. What resulted was worn at Gallifrey 22 in 2011.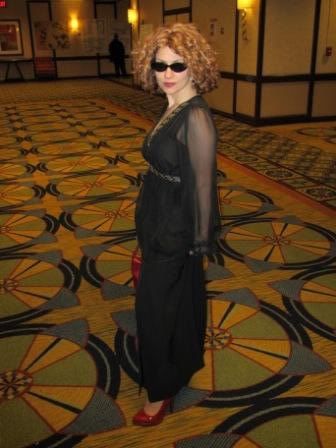 It was well received (after all it was a Doctor Who con) although again, still not very accurate. I still wore the same wig, which would prove later to be a better fit for River in the 6th season, but I felt it was OK to wear especially since it was dirt cheap and I didn't have anything else. Again, I figured it would either be the end of it, or at least be semi-retired.
Months later, someone posted a link to some amazingly accurate shoes on DW Cosplay on Livejournal…but I was not going there. I had shoes already…and I was not going to repeat that outfit. Nope. No way…not gonna happen. Guess what? I bought the darn shoes, and it was here-we-go-again!
Now had way better shoes, I NEEDED way better hair and better accent trim.
I found a wig that I thought would pass muster, but it was too blond. Thanks to the internet I was able to "fix" by dyeing it in rubbing alcohol and harvested sharpie marker ink. Again, not perfect, but it was better than what I had and was "close enough" for me.
The trim was another trial! I searched high and low for something more accurate (at least accurate as I could determine from the video of the episode and some photos from the internet). There were several good candidates but they were ridiculously expensive and generally the wrong width or the wrong color. I then made the decision that if I wanted a sequined and beaded trim, I was going to have to find a trim and bead it myself. So that is what I did.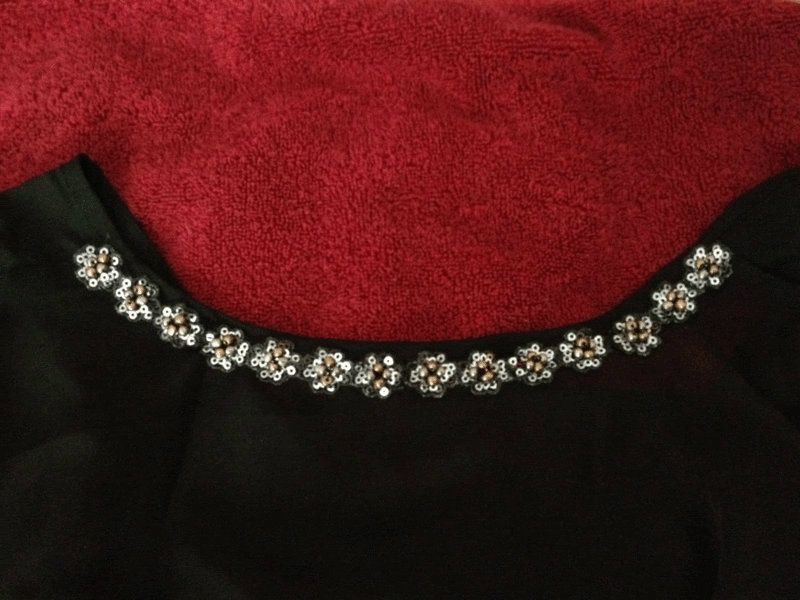 Yes it took time, and yes I pricked my fingers on the needle more than once, and YES it was worth it.
A few weeks before Gallifrey, I found a purse that matched the shoes I was not going to get and called it done!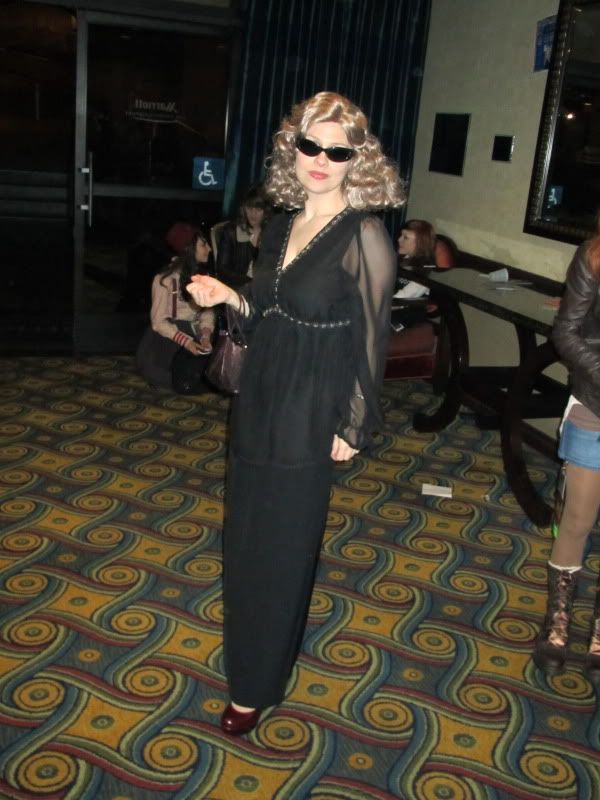 I was ecstatic with the final results. Will I tweak it again? As Ten once said to Rose: Never say "never, ever."